The Akbash is a rare, purebred dog from the country of Turkey. Loyal, alert, and intelligent, these pups have some of the best qualities you could ask for. Despite their imposing size, Akbash are gentle dogs that make affectionate, calm companions. All of our dogs at Three Creek Ranch are UKC registered, and we are a recognized breeder with the Akbash Dog Association of America..
At Three Creek Ranch we have made a commitment to furthering the Akbash breed into North America and we offer lifetime support for our new owners. Akbash dogs are the only dogs that we breed.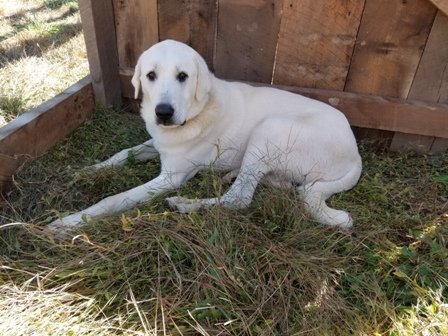 The Akbash Dog is an ancient breed native to western Turkey's plains and mountains, where he was bred by villagers and shepherds to guard livestock from wolves and other predators. Although the Akbash Dog is the Turkish counterpart to other white guardian breeds native to the northern Mediterranean Basin, he is the only breed to have the distinct combination of Mastiff and gazehound characteristics. In the 1970s, Americans David and Judy Nelson began studying these dogs, importing more than 40 Akbash Dogs to the United States. These imported dogs became the breed's foundation stock in both the United States and Canada. More information can be found on the United Kennel Club website (click here).
Three Creek Ranch takes extra steps to ensure we breed to the highest possible standards. We can help you decide if the Akbash dog is the best breed for your needs.  Every dog from Three Creek Ranch includes the following:
We are currently take pre-order for 2024 litter. 2024 puppies are price at $1,200. A $200 deposit is required to hold your pre-order position. You are able to select your puppy in the order in which deposit are received.  We are expecting a litter in January or February 2024 and puppies will be available 12 weeks after birth. Our Akbask Dogs are working dogs and the puppies will be trained with goats, sheep, cows, and chickens.   All of our puppies included all the items listed above in our core values included our 100% satisfaction guarantee (we are the only breeder that we are aware that provides this guarantee. 
Ellie is two years old with a loving personality. This her first litter. UKC Registration # P979-901 (Sire: P937-759, Dam: P858-400)
The father "Roy" is a large dog at 150 lbs. He is the example of the perfect Akbash dog standard and is an active livestock guardian. His father came directly from Turkey as a new blood line into the North American breed. UKC Registration # D108-032 (Sire: P937-760, Dam: P748-385)
In 1980, the US Department of Agriculture included Akbash Dogs in the Predator Control Program, in which they successfully performed, and in 1998, the United Kennel Club officially recognized the Akbash Dog as a member of its Guardian Dog Group.
All of our puppies are trained as livestock guardians.
Photos of dogs we have placed with new owners